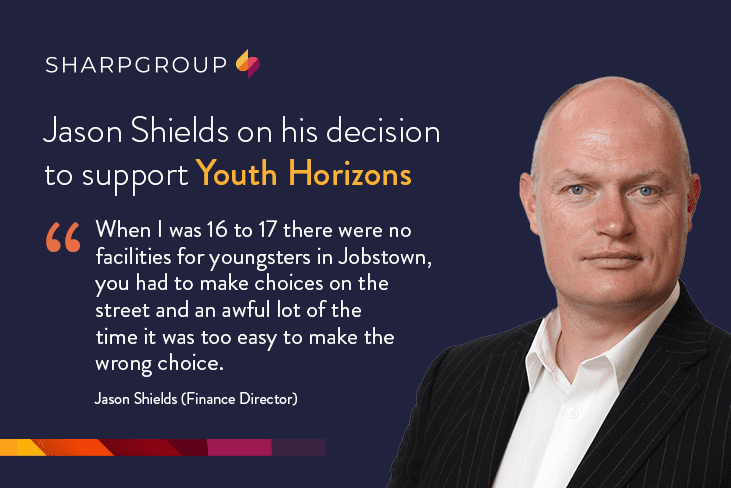 Coming from a single parent household with three siblings, Sharp Group's finance director has lived experience of growing up in an area where employment prospects were limited and opportunities to broaden horizons were few and far between.
"When I was 16 to 17 there were no facilities for youngsters in Jobstown," he said. "You had to make choices on the street and an awful lot of the time it was too easy to make the wrong choice.
"The community of Tallaght was brilliant in terms of good people doing great things for each other but even then there was drug taking, joy riding, petty crime and what seemed like no real future."
Fortunately, Jason was steered away from such a fate by strong – and what have proved life-long – friendships.
"I could have easily been led down the wrong path but at around the age of 13 I met a group of people who wanted to do more with their lives," he added. "Among them was my wife, who I got engaged to at 15."
Being in good company, however, was no guarantee of graduating to a successful career, with Jason's aspirations to achieve regardless of his childhood address receiving little support from the state's education system.
"Our biggest problem was resource," reflected the 46-year-old. "There was no-one to guide me as to how to apply for third-level education or to get funding. I had to find these things out for myself. In fact, in my school there was nobody to teach me what I needed to know to go on to study for a degree in maths; I had to teach my mates sometimes."
Despite the dearth in guidance, the Dublin Institute of Technology alumnus became one of the first within his community to progress to higher education thanks to "self-drive" and having a "wonderful" hero at home.
"My father left when I was very young and my mother was our role model," explained Jason, who joined Sharp Group as a financial controller in July 2005. "Looking at my mam doing part-time work while feeding and educating us all was an inspiration; it was the respect for my mother that drove me.
"I was the eldest of 4 children so had to take on the father-figure role and that meant taking responsibility for my own decisions. My view is that if you are not happy, you challenge yourself and do something about it."
Conscious that not every child has a role model like Jason's mam to motivate them, Jason is now committed to helping others find a positive path through Youth Horizons – a community hub providing health and wellness programmes to Tallaght's young people.
The initiative provides counselling, career guidance and life skills to its students and, importantly, offers guidance on how to navigate the Central Applications Office's process to secure a space on undergraduate courses in Irish Higher Education Institutions.  
A member of Youth Horizons' governing board for the past three years, Sharp Group's mathematical marvel helps to advise on funding and previously ran an annual careers advice session.
"I'm not in the building every day but when the teachers and team need help with any problems the children may have, the governing body is there to provide the solutions," said Jason, while outlining Sharp Group's plans to introduce an event that will encourage young people to support their peers.
Motivated to take on his voluntary role at Youth Horizons – and a similar position at Shamrock Rovers Football Club Academy looking after the National League Under 15 age group – by a desire to give something back to the community, Jason has a clear message for would-be donors considering their support for a cause close to his heart.
"If people don't invest in young people, the cycle of life dies," he concluded. "In my view, the next generation should always be better than the one before. If we cannot help them make better decisions than we made by sharing the knowledge and wisdom of our own experience, how can we expect young adults to take on the future?"