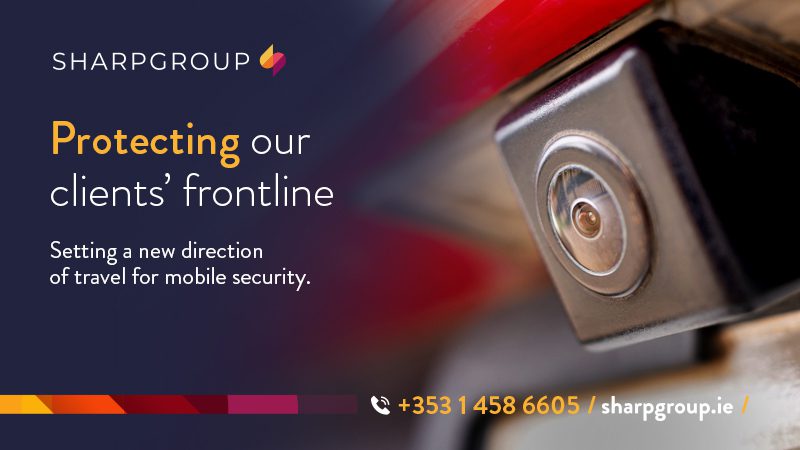 Article by Darren Mooney
REVOLUTIONISING "ROAD SAFETY"
How the Sharp Group is setting a new direction of travel for mobile security
There can be no denying that the motoring industry has found another gear when it comes to protecting drivers and passengers from harm.
Rather than continuing to focus solely on efforts to reduce the severity of injuries sustained in the event of a crash, vehicle manufacturers have exploited advances in radar, camera and computing technologies to do all they can to stop collisions from happening in the first place. 
Lane keeping aids, external cameras and blind spot warning systems are all innovations intended to increase survivability on the roads and are fast becoming common features of modern fleets.
Such a preventative approach to safeguarding people and possessions while on the move is also being spearheaded by the Sharp Group.
The largest Irish-owned fire and security protection provider has developed a state-of-the-art mobile monitoring solution for companies charged with transporting cargoes of high monetary value.
Bringing a CCTV-style service to the point of need, the customisable set-up combines cutting-edge cameras and mapping and tracking tools to ensure all "blind spots" are eliminated on any given journey.
The next-generation fleet management system, which also boasts integrated panic buttons and predetermined alarm triggers, affords its users unprecedented situational awareness and – in turn – unrivalled reassurance and peace of mind.
However, the images captured and recorded by Sharp's suite of internal and external cameras do more than just provide drivers and passengers with an unblinkered view of possible threats or unusual activity. Transmitted back to the company's control centre, the real-time footage acts as a force multiplier – putting additional trained and vigilant eyes in cabs and cockpits.
"As technologies have developed, so have we, which has enabled us to have eyes everywhere on behalf of our customers," explained Sharp Group's Darren Mooney. "This mobile solution effectively puts us in vehicles with our clients' staff for every mile of their trip and means we can alert the necessary authorities at the merest hint of trouble.
"We can be in constant communication with drivers and the precise location of a vehicle can be mapped and routes planned and rerouted as necessary to divert from any danger."
Of the fully-customisable system, which has already been adopted by a high-profile company and will oversee the movements of products worth millions of Euros, Darren concluded: "For those carrying cash in transit or relocating items of high net worth, prevention has to be paramount and any expense of such a service pales into insignificance when you consider the cost of inaction."