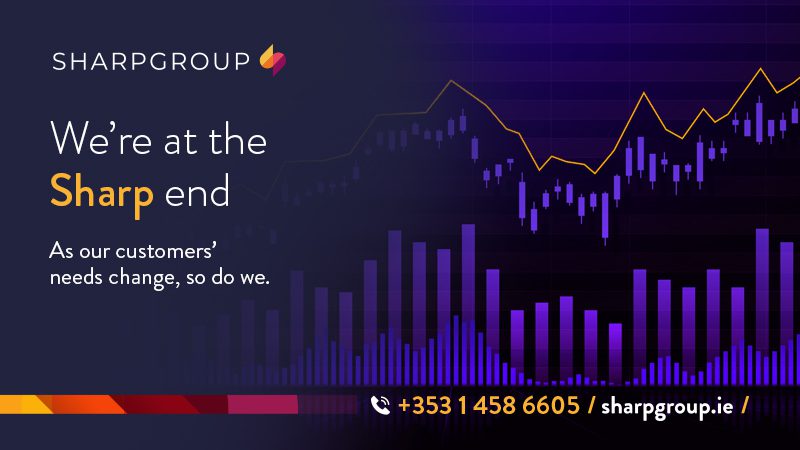 Article by Ivan Nolan
DEMANDING TIMES – WHAT'S CHANGED DUE TO COVID19?
Why the largest Irish-owned fire and security protection provider has remained at the 'sharp end' despite a fall in crime rates during Covid
With lockdowns closing classrooms and leaving shops, offices and industrial units unoccupied, the height of the coronavirus pandemic could have proved the perfect breeding ground for criminal activity in Ireland.
But while demand for the Sharp Group's fire and security protection provisions soared during the sustained stretches of social-distancing measures, opportunist thieves, intruders and acts of arson were not responsible for the ramp-up in activity.
Indeed, the boom in business was spearheaded by far more sedate triggers – a trend reflected by recent crime data from the Central Statistics Office, which reveals most offences fell during the first year of Covid closures. 
Therefore, rather than responding to burglaries, thefts and robberies, which dropped by 45, 31 and 26 per cent respectively in the 12-month period to the end of June 2021, Sharp's mobile patrols and monitoring services were kept busy tending to customers' requests to report on the welfare of properties.
Devoid of daily use and with no staff present to detect defects, building facilities such as power generators and air-conditioning and heating systems needed to be routinely assessed to ensure they were functioning as programmed.
In many cases, check-ups extended beyond picking up on any part failures or plumbing problems to include the flushing of toilets and running of taps to prevent returnees being exposed to the risk of Legionnaires' disease – a severe form of pneumonia that can be caught from breathing in tiny droplets of water containing infectious bacteria.
For some organisations, such as education and hospitality settings, the absence of occupants proved an unexpected opportunity to review, replace or upgrade fire and security systems without disruption to daily routines. This preparation for a return to 'normal' has intensified as restrictions have eased, with businesses rushing to complete maintenance and repair tasks in order to be ready and safe to reopen their doors.
However, Sharp's specialists are not expecting to see any dramatic fall in demand for their expertise when the majority of remaining Covid rules are lifted completely in late October.
Like other sectors, there is some catching up to do in the field of fire and security protection with deferred projects suddenly back on the agenda as a consequence of more people returning to work and buildings being back in greater use. 
And as the slow phase out of the Employment Wage Subsidy Scheme – introduced at the start of the pandemic and extended into 2022 – continues, so too will the removal of administrative barriers currently holding up long-planned installations. 
The construction industry, which is under severe pressure to return to and improve on pre-Covid levels of activity, will also ensure there is no hiatus in Sharp's scheduling.
Delays caused by material and labour supply shortages have resulted in tighter than usual deadlines and there is a clamour for CCTV systems and fire and intruder alarms to be supplied and fitted in the nation's new builds.
Throw an unwanted, but inevitable, bounce back in criminal activity into the mix as societal freedoms are returned and the effects of the coronavirus pandemic are set to endure. Fortunately, as the largest Irish-owned fire and security protection provider, the Sharp Group is ready for whatever challenges lie ahead and actively recruiting across all areas of its business.