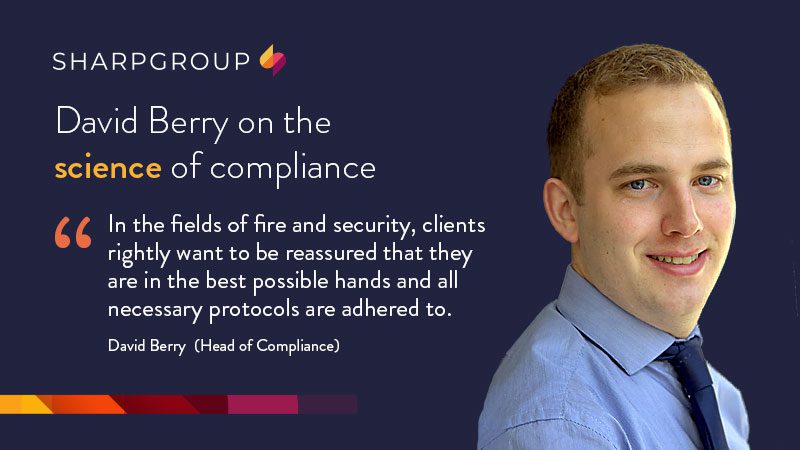 David Berry takes professional pride in being a stickler for detail and has used the characteristic to carve out a career as a skilled scrutineer.
Formerly a lead assessor for Certification Europe, he spent five years exercising his exacting standards through the examination of the information security processes put in place by countless companies and mastering the science of commercial compliance.
However, having amassed a wealth of expertise in reviewing and sharing business best practice, the inspector has opted to become an inspectee and David's diligence will now be applied from the other side of the assessment desk.
Recently appointed as head of compliance at the Sharp Group, the certification gamekeeper has turned proverbial poacher but has no reservations about the reversal in role given his new employer's proven pedigree.
The fire and security specialist has certainly set the benchmark for others operating in the sector, having been accredited to the highest environmental, quality and health and safety standards. 
Sharp Group was also the first Irish-owned security firm to demonstrate the integrity of its people and services by attaining ISOs [International Organization for Standardization] 27001 and 37001 – globally-recognised cyber security and anti-bribery certification.
Of his appointment, David said: "Given my previous role, my decision to join the company is an endorsement of the great work that has already been done by the management board.
"I would not have been interested in coming if I believed the Sharp Group's attitude towards certification was merely a paper exercise.
"Management systems simply do not work if they are not embraced and become embedded into the ethos of a business and at Sharp Group all the practices and processes are geared towards quality.
"The company already has a fantastic reputation and I am looking forward to helping the team to rubber stamp it."
While David acknowledged that certification can place significant time and cost pressures on firms, he insisted that the implementation of stringent procedures is pivotal to affording customers peace of mind.
"Standards do not give those awarded them a bulletproof cloak; they do not mean breaches can't happen, but they do mean there are clearly identified steps in place to minimise the impact in the event that something does go wrong," he added.
"In the fields of fire and security, clients rightly want to be reassured that they are in the best possible hands and all necessary protocols are adhered to.
"Trust is implicit in this business given providers effectively know every code behind every alarm and lock and we want our customers to be supremely confident that all of the information shared with us is fully protected."
Providing such assurances is reliant on the robustness of internal policies and, with David charged with overseeing compliance, there will be no let-up in the Sharp Group's pursuit of industry excellence as the company continues to expand its client base within the logistics and data centre sectors and actively recruits across all areas of its business.
"There are always areas that can be improved and my appointment demonstrates that the Sharp Group is committed to finessing its practices to ensure it remains at the top of its game," he concluded. "As a former assessor, I won't be losing any sleep over any future compliance audits because I know that we are fit to face the toughest of examinations."