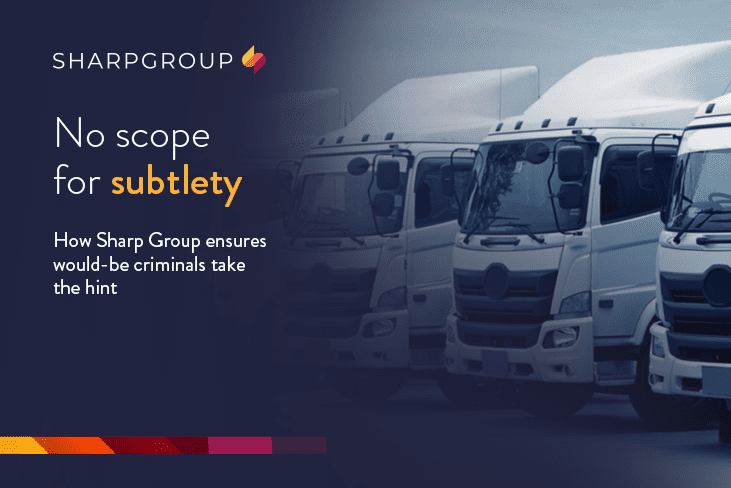 How Sharp Group ensures would-be criminals take the hint.
When it comes to influencing the behaviour of people, sometimes a soft, simple touch is enough to have the desired effect.
Take, for example, the psychological nudge given to spectators arriving at a major international sporting event in an effort to avoid congestion on the stairwells of stadiums and stations.
Noting that many of those visiting were ignoring instructions to "keep left" or "keep right" – a volunteer creatively solved the problem by directing crowds with the addition of some "gold medallists this way" and "losers that way" signposting.
Unfortunately, there is less scope for subtlety in the security sector, given criminal intent has a rap sheet for taking advantage of measures to encourage adherence.
Such was the case when several European cities opted to display posters warning members of the public to be vigilant of pick pocketing. Rather than reducing crime, in many locations incidents of theft actually increased as – prompted by messaging about being aware of the location of their valuables – people instinctively felt for their phones and wallets, identifying their precise whereabouts to opportunist thieves.
Similarly, to avoid damage to vehicles during overnight stops, it has become commonplace for freight drivers to leave the doors of their lorries open to demonstrate there is nothing of value inside to be stolen. While not the intent, the practice of declaring "I'm empty, don't rob me", only serves to flag alternative targets to those seeking ill-gotten gains.
This threat of theft does not immediately diminish behind the wire of major logistic and distribution hubs, where – in a criminal context – fortune can favour the brazen.
With campuses generally home to multiple tenants and a hive of around-the-clock activity, the sight of someone in a hi-vis jacket closely inspecting a vehicle, container or warehouse space is anything but out of the norm – a fact not lost on prospective perpetrators.
Easy to attain, such attire can afford those with an air of confidence an opportunity to roam and ransack without raising suspicion.
Consequently, the Sharp Group does not leave dissuading people from doing things they should not to chance or suggestion.
Owners, occupiers and customers of campuses entrusted to our care can be assured that their backs and business interests are being watched 24 hours a day, seven days a week.
More of an authoritative push than a nudge, we provide a very visible and effective deterrent and track the movements of people and vehicles from their arrival at a site to their departure.
From barrier controls and Automatic Number Plate Recognition to sophisticated CCTV technology and intruder alarms, our myriad methods of monitoring activity ensure any moments of misadventure, malpractice and criminal misdemeanours do not go unchallenged or unnoticed.
And with on site security staff and systems supported by an all-seeing, remote control room, we are a trusted means of tempering any temptation to take.
The Sharp Group has a proven track record of delivering a guarantee of good behaviour to busy facilities and, as evidenced by a client base boasting big names such as Lucey Transport, represents the route chosen by corporate gold medallists.