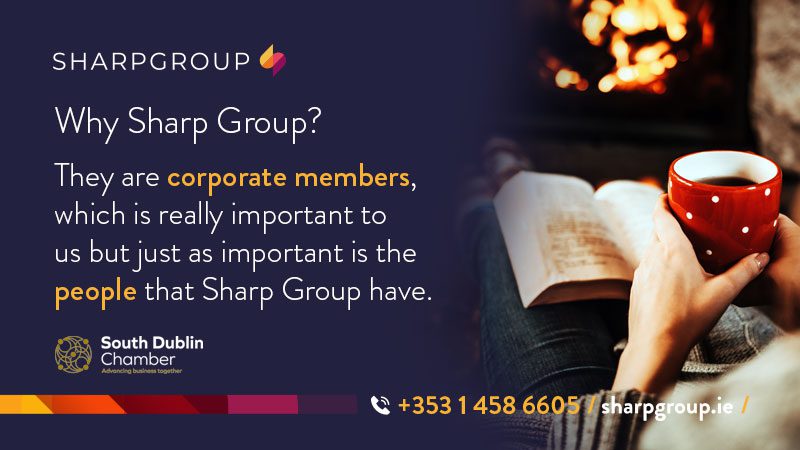 During a time when physical security has never been more important, we took the time to understand its true value by interviewing one of our clients.
Our Client: South Dublin Chamber of Commerce, Ursula Kennedy
Services Provided: IP CCTV System, Central Monitoring Station
Q: What was the role of Sharp Group?
A: "The old alarm system and the service was not working well. We had static security 24/7 and the costs were gradually increasing to an unaffordable level, from statutory increases in wages to the service provider pulling back hours. We were starting to experience some major gaps, so it was time to explore other options."
Q: Why Sharp Group?
A: "They are corporate members, which is really important to us but just as important is the people that Sharp Group have. Martin, who was our first point of contact, has been brilliant. He didn't come back with a fait accompli but provided a number of affordable options. Communication was first class throughout the whole budgeting process. Martin worked closely with us in the costing of the whole site.

Within weeks the team kitted out the whole building and did a week and a half of tests – then we went live. It was seamless.

Also we have the same engineer visit our site regularly, he is an absolute asset to the team."
Q: What were the main security issues?
A: "There were young adults coming into the park with weapons and missiles to throw at the windows. We had lots of breakages. The first night after getting our new system, they were captured on camera. These photos went straight the Gardai, and these individuals haven't been seen since."
Q: Do you have any regrets moving from human to technology?
A: "No regrets at all and we have already recommended the team to other landlords in the area."
Q: What do your tenants think? How have they responded?
A: "Obviously, they have been used to a person being on site and the tenants got to know them. However, one of our tenants who has been in the building for 28 years came in last week to talk to our CEO. This tenant comes in to work in the middle of the night. His words were:

"This new system is great, I even know the security team on first name terms. They are always at the end of the phone or screen!"