From the lab to the last precarious mile, pharmaceutical companies contend with an array of physical security risks throughout the product lifecycle. Just as their people work tirelessly to improve health outcomes, thousands of immoral bad actors work as tirelessly to steal the invaluable intellectual property (IP) of these world class innovators. 
But beyond theft and vandalism, pharmaceutical companies must find the antidote to an array of other risks too. Contamination, insider threats and compliance are all worries that plague security and risk management professionals in this sector.
Thankfully, security technology has developed as quickly as the risks infecting pharma supply chains. We're proud to work with world-renowned vendors – including Milestone, Axis, Lenel S2 and many others – to bring pharmaceutical companies a trustworthy cure for their security and fire challenges.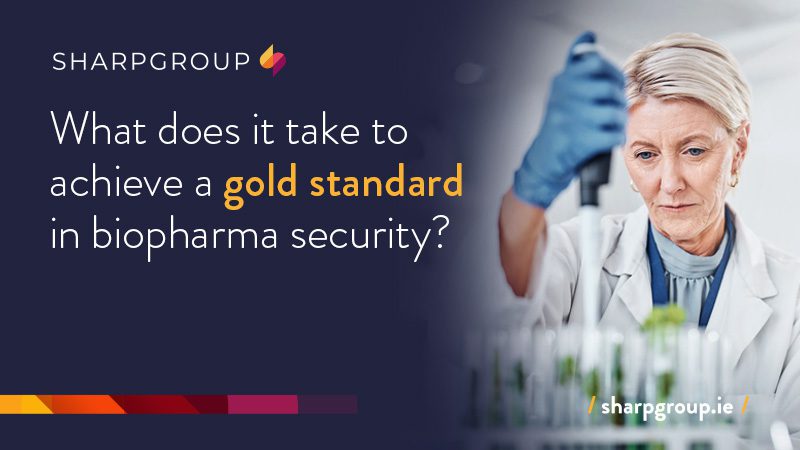 Reaching the gold standard
In the same vein as a gold standard in medicine, quite rightly the physical security bar is set exceptionally high in the biopharma industry.
With a range of watertight regulations to contend with, only those certified to global standards that are aligned with pre-qualified vendors, can be trusted. Finding a certified security provider in Ireland to install and manage these world leading solutions – can be challenging.
Since inception almost 25 years ago, we have invested in relationships and the technical know-how to integrate leading vendors' advanced physical security solutions into a diverse range of facilities and supply chains from end to end.
Our own governance, risk and compliance procedures are also endorsed by certifications such as to ISO 27001, ISO 9001 and ISO 450001 which have proved invaluable in securing our place at the gold standard partnership table.
Spend innovation investment funds wisely ….
The pharmaceutical industry is not immune to the global downturn plaguing most sectors and nations. With budgets stretched thin across the board, any investments in physical security systems need to deliver a return. Choosing an experienced provider is vital. That's where we can help.
We have a track record of helping established players enhance security outcomes while, in tandem, boosting all-important cost efficiency. Working with a leading global manufacturer of injectable pharmaceuticals, for example, we designed a bespoke fire and security strategy that cured security woes whilst saving the company an estimated €700,000 in security-related costs.
Find out more about our certified security services today.