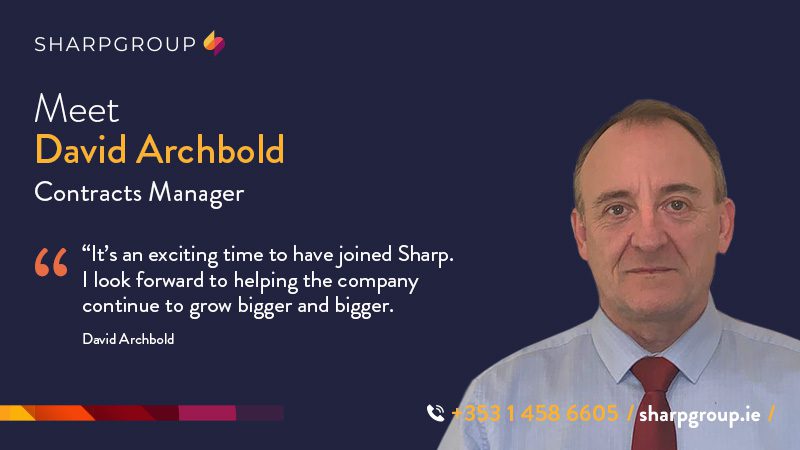 At Sharp, we firmly believe that our people make the difference. Since 2010, our team has grown by 60%, and we are always looking for talented, driven individuals to join our thriving company.
One such individual is David Archbold, who joined us as contracts manager on the 30th of January. While he has only been with us for a month, David's expertise and knowledge are already proving invaluable to the team.
"In my day-to-day role, I look after our portfolio of contracts, taking into account everything from negotiations to implementation. It's my job to ensure all our sites and manned correctly, that we follow best practices and, ultimately, that we deliver client excellence every day."
No stranger to physical security, he joined us after 26 years at another firm.
"In my last role, I was the operations and administration manager. My new role is very similar, although Sharp is more pioneering in its approach, with a larger focus on electronic security services and manned guarding."
Nearly three decades at one company is undoubtedly a long time. Having watched Sharp's rocket-speed growth over the last few years, David decided it was time for a new opportunity.
"My brother works at Sharp, so I already knew of the company. I'd watched it grow amazingly over the last decade, and I knew from my brother it had a good company culture. My previous company was different; things needed to change, but nothing was happening. When this role came up, I jumped at the chance."
For David, seizing the opportunity has been a great decision. He explains: "The company environment is great; I feel energised again, and I have a smile back on my face. All the team are happy, joking and genuinely enjoy their work. I'm grateful to be part of the Sharp family."
David has jumped straight into his new role with vigour and determination, learning as much as possible while delivering excellent service to clients.
"Right now, I'm in the learning phase, getting knowledge into my head and familiarising myself with Sharp's processes."
Commenting on the appointment, Jason Shields, our Finance Director, shared: "I'm delighted to have David join us. He will work as part of our Man-Guarding Management team in delivering the services we offer from this section of our business to our clients. We've no doubt we can use his experience to help improve our service delivery."
Looking ahead, David is excited to see our company continue to flourish. He concludes: "It's an exciting time to have joined Sharp. I look forward to helping the company continue to grow bigger and bigger. I can see a lot of progress happening. The staff are happy, the environment is great, and long may it last!"