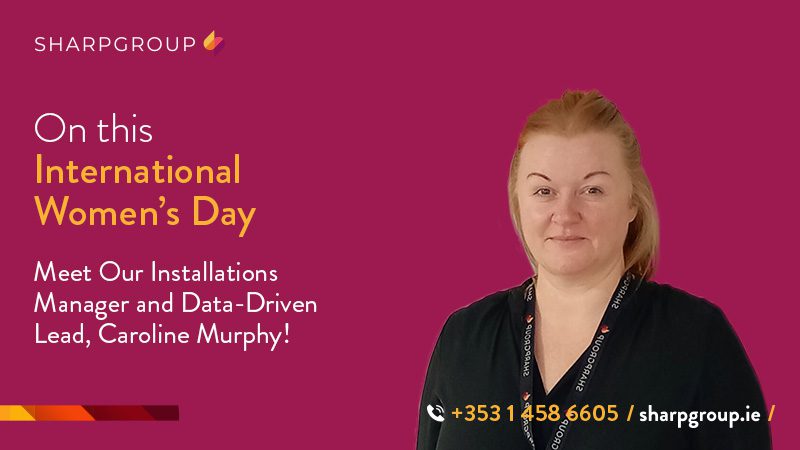 The 8th March 2023 marks International Women's Day, an opportunity to celebrate the outstanding contributions of the women at Sharp Group and remind our industry that physical security and technology are just as much careers for women as they are for men.
This year, we wanted to shine a light on one of our long-serving team members, Installations Manager Caroline Murphy, who has been with Sharp for sixteen years!
"I started as an operations administrator in 2007," reminisces Caroline. "I'd returned from travelling in Australia and New Zealand, and was temping at another fire and security company. I really enjoyed how varied the role was. I saw that Sharp was hiring for someone in the Operations department and sent in my CV. Sixteen years later, here we are!"
During the course of her admirable career, she has wowed colleagues and customers alike with her tremendous people skills, attention to detail and forward-thinking mindset.
"Operations is a bustling department, and I wouldn't have it any other way," she explains. "I work on the installations and reactive side of operations. You could be dealing with one thing, and then a phone call comes in, and you need to reprioritize! I love how varied my role is."
For Caroline, the people-centricity of her role has also been a great draw.
"The people are my favourite thing about working here – both customers and colleagues. It's a great workplace, and I've built strong relationships with customers over the years. It's rewarding that customers will call us looking to speak to me – they know I'm reliable, and they trust me."
Her infectious enthusiasm and commitment to delivering client excellence have been noticed throughout her time with us, with Caroline most recently being promoted to Installations Manager in 2020.
"Being offered the chance to move up to management is my proudest moment," she beams. "To be acknowledged and recognized felt great."
Beyond excelling in her day-to-day responsibilities, she has also played a pivotally strategic role in improving our company's efficiency.
She explains: "When I first joined, our team were still writing quotes, purchase orders and other documentation by hand! As the technologies out there improved and the business grew, our Operations team saw an opportunity to improve things with an online Customer Relationship Management (CRM) portal."
"We wanted to create a one-stop-shop for every department, incorporating sales, operations and accounts. We took a look around and saw Microsoft Dynamics had the most flexibility. We've developed the system to suit our business needs and requirements."
Since introducing the data-driven system, our employees' efficiency and productivity have skyrocketed.
Caroline explains: "The productivity benefits have been massive both on the ground and in the office. For us, the reporting capabilities mean we can access really valuable insights in just a couple of clicks and, for the security division, entering information has become seamless, taking minutes instead of hours."
Not one to rest on her laurels, she sees the CRM as an exercise of continuous improvement.
"We're always trying to make things more efficient. We recently introduced a customer portal to make it easier for our clients to contact us and for us to keep them better informed. It's a great system; the more data you feed, the better it becomes. So, we're constantly refining and optimizing business processes."
While tech and all aspects of security are typically seen as male-dominated fields, Sharp Group is breaking the status quo, reinforcing the importance of equality and diversity in the sector.