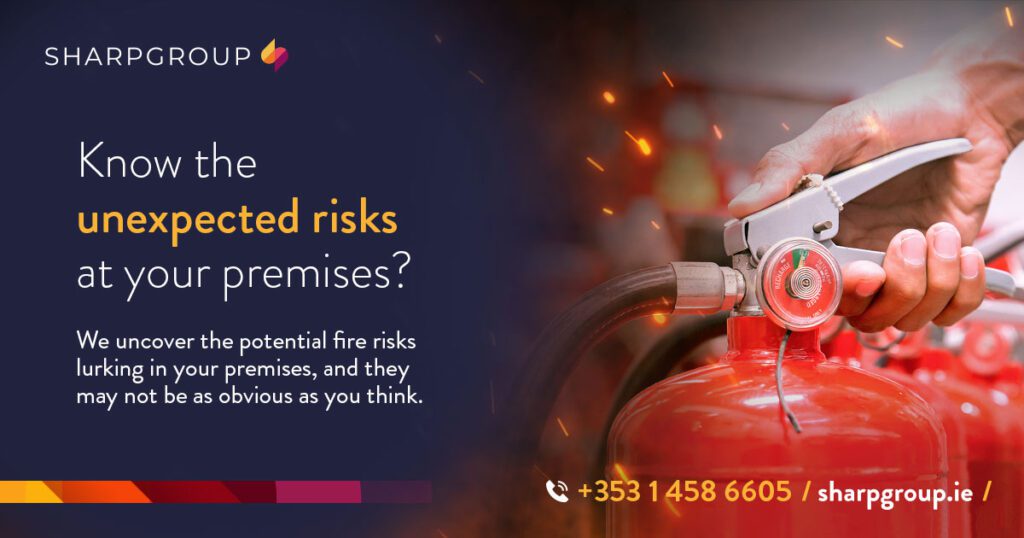 Where are the unexpected fire risks in your workplace?
When keeping your business safe from the risk of fire, a sensible approach is to get a full understanding of all the potential risks lurking in your premises, but some of these may not be as obvious as you think.
Top five unexpected risks to mitigate:
Human Error: It will come as no surprise to hear that human error is a major contributor to accidental fires in the workplace.
Dust: Did you know for example that dust is one of the biggest causes of fire in the workplace?
Electrical equipment and faulty machinery: These can pose a threat of fire, especially when they overheat and if there are combustible materials stored nearby, these can have devastating effects.
Waste Materials: Along with dust, a build-up of waste materials such as cardboard or paper provide excellent fuel for fire especially if stored close together in any one area.
Flammable Liquids: These are another potential hazard and you may think that simple items such as cleaning products pose little risk, but stored together with flammable ingredients, these can also prove very hazardous too.
When was the last time you gave your staff fire safety training?
An effective way to manage the fire hazards within your business would be to develop comprehensive fire safety systems, such as staff training to ensure your employees understand their roles and responsibilities, should a fire break out.
Investing in a good quality fire alarm system is key, as is the placement of plenty of fire extinguishers and fire blankets where appropriate around your premises. The creation of a thorough reporting procedure for staff, as well as having an effective waste management system, are also measures that can help your business to manage the risks. 
Do you know what your legal obligations are?
By far the most effective approach, however, would be the regular inspection and maintenance of all of your in-house company equipment. At Sharp, we pride ourselves on the maintenance services we provide for our clients. Our Fire Alarm System Maintenance Procedure undertakes over 20 different individual checks at your premises. We test the entire system, checking the condition and all of the operations, running checks on all the electrical components and providing a full and comprehensive report.
Know all of the fire risks at your premises? Are your fire prevention systems being regularly maintained? Need our help?
We can tailor a Fire Services solution for your unique business needs, from our extensive range of products and services that covers detection, protection, and suppression systems, along with fire safety signage and accessories. We also provide training and consultancy support.
We work across all industries from small manufacturing premises to high-risk sites requiring extensive Fire Service supports.
Talk to us today about fire prevention at your business premises, we are independently audited to the highest international standards and are certified to the highest environmental, quality, health and safety standards.
Find out more by calling us today on: 01-401-9240, or for more information on our certifications.