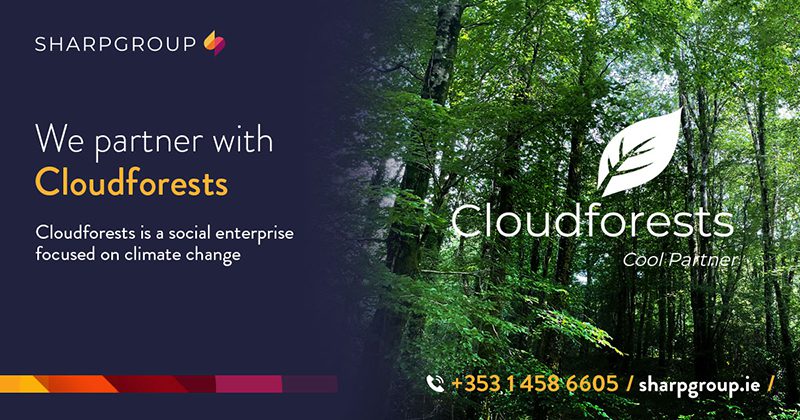 We are delighted to announce that as of today, we have partnered with Cloudforests as their latest 'Cool Partner', number 031.
Cloudforest's mission is to make planet earth cool and as a social enterprise focused on climate change, they own and invest in unique forests at beautiful locations all along Ireland's Wild Atlantic Way.
We decided to partner with them because they are implementing a new and innovative initiative that makes a real difference now, in line with our own working ethos. We continually sought new opportunities within our business to minimise our impact on the environment but with the continued climate warnings, we felt that looking internally was not enough.
At Sharp Group, we believe in sustainability and care about the environment. We have had an ISO14001 certified environmental management system in place for a number of years, and by partnering with Cloudforests we believe that we are helping to make a real difference to climate change. Global emissions of greenhouse gases from human activities are responsible for approximately 1.1°C of global warming since 1850, and over the next 20 years, global temperatures are expected to reach or exceed 1.5°C of warming*.
Cloudforests are embracing technology in today's digital age, their forests feature HD live streaming for their partners. Features that partners collectively help to fund include miniature bat caves, bird nesting boxes and pollinator friendly wildflowers.
Cloudforests CEO, Bernard Pender, said that our contribution to the programme would be targeting the creation of 100 plantations. "We are giving like-minded companies the opportunity to take direct action against climate change," he explained. "Everything we invest in or create makes the planet cooler and Sharp is doing its bit to put fresh air back into Ireland's, and the world's, lungs".
With our young workforce, we felt the time had come to commit to an initiative that protects the interests of our future workforce, and their children.
*Source: https://www.cloudforests.ie/