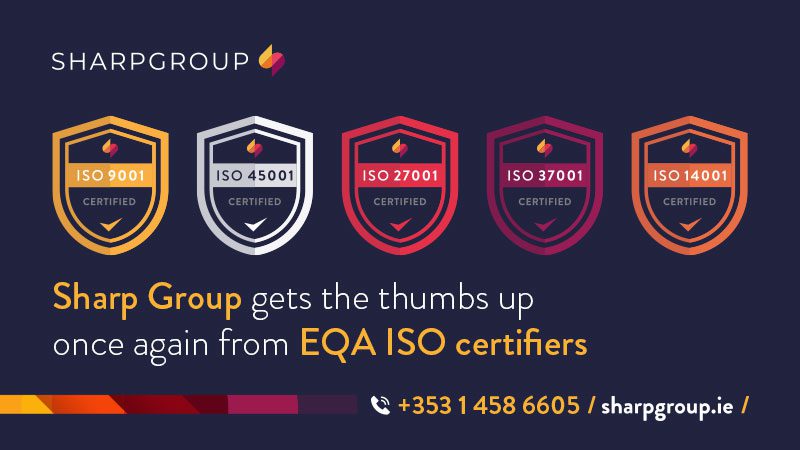 Sharp Group's Integrated Management System gets the thumbs up once again from EQA ISO certifiers!
For a fire and security business, high levels of compliance is the single most critical success factor.  We are constantly pushing the boundaries to ensure the best-in-class security and safety services for our clients and their premises.
Head of our compliance, David Berry, puts it well
"In the fields of fire and security, clients rightly want to be reassured that they are in the best possible hands and all necessary protocols are adhered to".
"Trust is implicit in this business given the intricacies of the way in which we work, from CCTV and fire installations to keyholder roles and monitoring. Clients need to know that confidential information is fully protected."
The successful recertification of all four standards (ISO9001, ISO14001, ISO27001 and ISO 45001) from an ANAB endorsed certifier that has undertaken a deep-dive audit of all our processes, is something our business is incredibly proud of.
"There will be no let-up in the Sharp Group's pursuit of industry excellence as the company continues to expand its client base across all blue-chip and blue light business." states Ivan Nolan, Managing Director
"As the first Irish-owned security firm to demonstrate the integrity of its people and services by attaining other critical ISO standards [International Organization for Standardization] such as 27001 and 37001 – the globally-recognised cyber security and anti-bribery certification, endorses our pursuit for raising the bar in our industry."